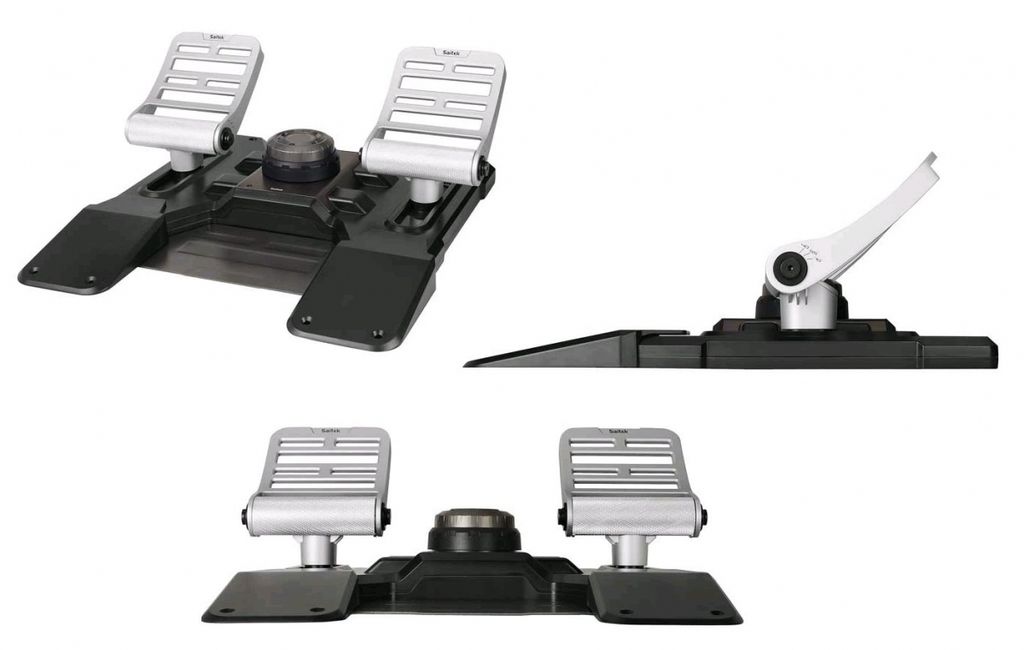 Saitek PRO Flight Combat Rudder Pedals
Product Description
Product Description
Inspired by pedal designs found in modern fighter aircraft such as the F16 or F35, the Rudder Pedals are constructed from a highly robust Di-cast alloy, providing durability and authenticity for the most demanding of aspiring pilots. Independent left and right brake axis allows for greater accuracy and precision when performing braking maneuvers. Self-centering rudder axis works in conjunction with a user configurable dampening adjuster, allowing users to define levels of pressure required to operate rudder controls. Connectivity: USB 2.0
From the Manufacturer
Compatible with Most Major Flying Games, Including:
Microsoft Flight Simulator X
X-Plane
System Requirements:
Connectivity: USB 2.0
Windows 7
Windows Vista
Windows XP
Supports all 32-bit and 64-bit versions.
Saitek Pro Flight Combat Rudder Pedals
Modern fighter aircraft such as the F-16 and F-35 provide the inspiration, and a highly robust die-cast alloy provides the means to create Saitek's Pro Flight Combat Rudder Pedals. Remarkably durable and authentic, they're ideal for the most demanding of aspiring pilots. Independent left and right brake axes allow for greater accuracy and precision when performing braking maneuvers. Self-cantering rudder axes work in conjunction with a user-configurable damping adjuster, allowing you to define specific levels of pressure required to operate rudder controls.
Versatile Combat-Style Rudder Pedals
Not limited to the fighter jets which helped give the pedals their unique style, they're adaptable enough for use in Helicopter, WW2, Commercial and GA (General Aviation) sim setups.
Independent Left and Right Brake Axes
The smooth, precise motion enables accurate command over your aircraft, while differential braking provides independent control of the left and right toe brakes.
Self-Cantering with Adjustable Damping
Adjustable damping allows you to set the precise pressure required to move the rudder axes, which will canter all on their own.
Adjustable Pedal Angle to Suit all Styles of Flying
Unlike modern jet fighters with fixed setups, simulation cockpits come in a variety of configurations. To help ensure compatibility with your rig, the pedals can be set to one of three different angles.
Durable Part-Metal Construction Enhances Longevity
Modern aircraft like the F-16 and F-18 have rigid requirements to make use of materials that are extremely accurate and highly durable. The Saitek Pro Flight Combat Rudder Pedals excel in both these categories and their part-metal construction helps them withstand mission after mission.
Fully Customizable to Meet Your Needs
Modular and interchangeable, Saitek's range of Instrument Panels can be situated one on top of another or side-by-side. Want the Multi Panel above the Radio Panel? Done. Want your Switch Panel to the left of your Yoke? Go for it. Easy-to-use mounting brackets provide the means to arrange your flight simulation setup in a configuration only limited by your imagination.
Build the Ultimate Virtual Cockpit
With Saitek's Pro Flight Yoke System, the configuration of your dreams can become reality. From just a Yoke and a Throttle Quadrant, easily add Rudder Pedals and a multitude of Switch, Navigation, and Instrument Panels to fully customize your flight simulator. Commercial or private, seasoned or novice, you have the ability to equip your flight simulation setup with all the essentials needed to vastly improve your skill set and muscle memory.
---
Customer comments
| Author/Date | Rating | Comment |
| --- | --- | --- |