CronusMax Plus Rapid Fire Controller Adapter for PS3 PS4 Xbox One 360
Product details of CronusMax Plus Add On Rapid Fire Controller Adapter for PS3 PS4 Xbox One 360
THE NEXT GENERATION FOR 2015 HAS ARRIVED - THE ALL NEW

CRONUSMAX PLUS (2015 Version) !!!!

This is the new v3 2015 hardware revision with many improvements:
Pre-programmed with the new CronusMAX PLUS Firmware

Stronger PCB to minimize accidental damage by end users

Enhanced performance with lower heat dissipation and lower amp usage than ever before

Updated chipset for improved XIM & third party controller support

New LED Backlight system that operates as a notification LED for GamePacks, Mods and Scripts

New LED Backlight ring mechanism around the LED memory profile display

New Memory Profile LED Button which can be easily viewed by the player from almost any angle

New and updated GamePacks to support the new CronusMAX PLUS hardware features

New design retail packaging with custom tray for extra shipping protection
Now supports WIRELESS Mode on Playstation 4 Controllers!!!! No more

long wires running across

the room to use all the amazing features on your PS4! * Requires Bluetooth Dongle (only required for

Playstation/Wii U Controllers in wireless mode)
The CRONUSMAX PLUS supports many features not available on any

previous device (GamePadProxy, Cronus, CronusMAX). The CRONUSMAX

PLUS has been completely redesigned from the inside-out for optimal

performance, speed, and reliability. The hardware and firmware have

been overhauled to run more

efficiently and consume less power to

ensure hours of lag-free operation. The INPUT USB port has also

been corrected so that you no longer have to plug in your

controllers the wrong way around.

CRONUSMAX PLUS is also the ONLY Device that runs on the new

Cronus PRO Software suite which also includes a whole new range

of plugins and features!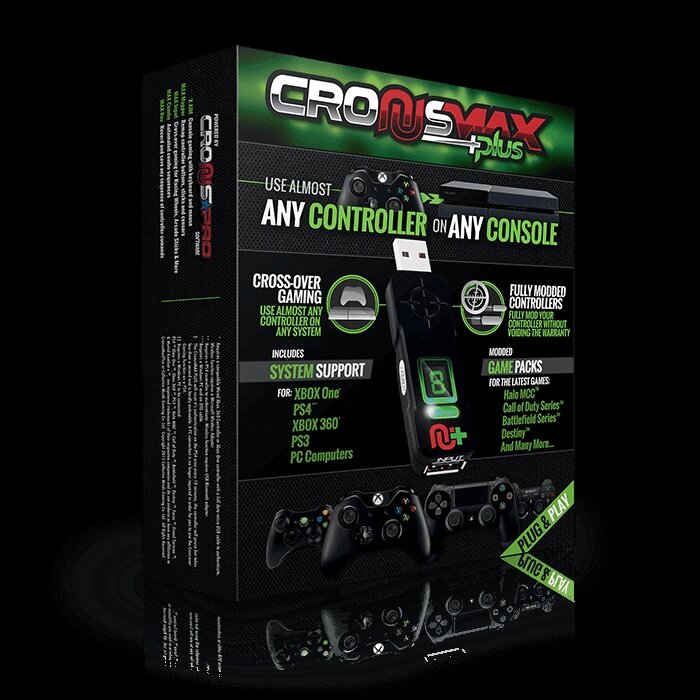 Partial PS4 Cross-Over Controller Support - FINALLY the ability to use any controller on the PS4 console without needing to connect a PC. One small caveat is that your controller will automatically reset its connection once every 10 minutes. This lasts for a fraction of a second and is hardly noticeable - no more resetting or requiring to re-authenticate your controller or having to use a PC !!!
Tournament Edition Mode - You can use the CronusMAX PLUS in many gaming tournaments with this new feature. This disables all cheats, scripts and GamePacks to allow for competitive gameplay.
Visual Programming Interface (GPC BLOCKLY) - You can now create all your own custom controller mods without writing a single line of code. Just drag and drop blocks on to the canvas and configure them to your needs. You can create simple and complex mods using this method and share them with the world with a click of a button. Create killer combos for any fighting game and assign it to a special button press that;s easy for you to remember. The possibilities are endless!
CRONUSMAX HAS ALSO BEEN AWARDED THE PCMAG EDITORS CHOICE AWARD !!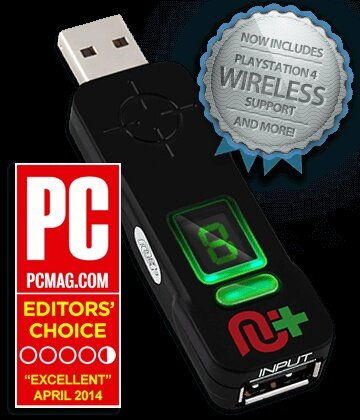 The CronusMAX PLUS is the most power gaming controller add-on
ever created.

The CronusMAX has FOUR major categories:

#1 Cross-Over Gaming

#2 Precision Mouse & Keyboard Control

#3 Fully Modded Controller - No Soldering, No Wires, No Chips,

No Voiding your Warranty!

#4 Macro Programming & Custom Scripts - Imagine 88 Ultra Hit

"Killer Instinct" combo with the single press of a button !

1.Cross-Over Gaming

The CronusMAX PLUS is the first ever cross-compatibility gaming

add-on ever created for video game industry. Simply put, it allows

you to use your favorite gaming controller on virtually any console

you want. Love your Xbox 360 controller but have to use PlayStation

3 at your buddy's house? or how about you want to use your PS3

Six-Axis Controller on your Windows PC? Not a problem. Just plug

in the CronusMAX PLUS, sync your controller, and you are ready to

go. No hassle. Just play!
Our unique device opens up a whole new world of gaming for you.

Gone are the days when you are restricted to using uncomfortable

controllers because of the system you are playing on.
Features include:

Works on PlayStation 4*, Xbox One, Xbox 360, PlayStation 3, and any Windows PC

You can even use a Wii controller on your PS4, Xbox One, Xbox 360 or PS3.

No Lag. Instant controller input response each and every time!

Remap your buttons to any custom configuration

No soldering, chips or wires. Simple plug-and-play (Some features require prior setup and configuration)

Hundreds of compatible controllers

Huge community support (Over 140,000 members!)
#2 Precision Mouse & Keyboard Control

There are many "mouse and keyboard" console adapters on the market

today, so, what makes the CronusMAX PLUS so different? The answer is

simple: precision. Making a high precision device (like a mouse) work well

in a game that was designed for controller thumbsticks is a very difficult

task. All console shooters have different levels of "aim-assist" that makes

them playable using a controller. If done incorrectly, adapting a mouse to

these games will result in aiming that feels jerky, unresponsive, and detached.

CronusMAX PLUS takes this mouse tracking information to the next level using

it's unique "X-AIM" technology.
Through X-AIM, CronusMAX is able to provide unparalleled mouse

precision unachievable by any other gaming adapter available. The

problem is simple: when the mouse moves, equivalent reticle

movement on the screen should occur (i.e. 1-to-1 movement).

CronusMAX PLUS's simplicity and flexibility is also second-to-none.

It's philosophy is to empower the gamer without bombarding them

with unneeded complexity. It's quick and easy to set up your preferred

gaming environment. Even more, it will actually give you real-time

feedback to help you find your optimal settings. For the most hard

core gamer, the CronusMAX PLUS offers an insane amount of capabilities,

without any kind of soldering or extra hardware to install to the controller.
Features Include:

Game on your PlayStation 4, Xbox One, Xbox 360 or PlayStation 3 using your favorite PC gaming-grade Mouse & Keyboard

Supports both desktop and living room gaming styles

Unsurpassed in-game 1-to-1 feel thanks to advanced X-AIM technology

Simple configuration

Real-time feedback to guide you to your optimal settings

Bonus Feature: Ability to remap PC grade Joypads and gamepads !

Huge support community dedicated to Mouse & Keyboard users

Note: A Windows-PC is required while using the keyboard & mouse together
#3 Fully Modded Controller - No Soldering, No Wires, No Chips,

No Voiding your Warranty!

The CronusMAX PLUS really is the ultimate solution to all of your controller

modding needs. It allows you to implement powerful mod capabilities to

your controller WITHOUT the need to add additional chips or wires to the

hardware. This means it will work with your controller RIGHT NOW giving

you a fully modded controller with no installation necessary without

spending hundreds of dollars - and it will always be the very latest

mods and scripts for the latest titles - NO ONE has better scripts

and GamePacks than what we do - our team of gaming experts

ensures than we're #1 when it comes to our mods! There is absolutely

no need to make changes or modifications to your Xbone One,

PlayStation 4, Xbox 360 or PlayStation 3 controller - this has never

been done before :) This innovative new technology isn't available

anywhere else on the market. With a full selection of mods at your fingertips,

the CronusMAX PLUS is perfect for the gamer looking to add an extra edge to their game.
Features include:

Wireless state of the art modification technology

Millions of mod configurations - No Combo Limit!

Virtually Zero lag (tested to 1 millisecond)

No chips, wires, or controller modding required!

No soldering or installation required - Truly Plug and Play!

Fully loaded with access to ALL the latest GamePacks

Support for all current and future console games

Built-in memory stores up to 9 of your favorite GamePacks & Scripts

100% Undetectable Online - Ultra Stealth Technology

Free Custom Software for mapping and re-mapping the game controller buttons

Complete button layout configuration and re-mapping

User friendly menu system using the built-in controller LEDs

Works with Playstation 4, Xbox One, Xbox 360, Playstation 3 and Windows PC.

Does NOT void your controller's warranty

Bluetooth dongle is required for PS4 / PS3 / Wii controllers wireless mode (Sold Separately)

New Game Packs Released Frequently - This means when a new game is released, we will have you covered!

Exclusive access to Cronus PRO Software Suite!

6 Month Hassle-Free Warranty

There are no extra fees ! WE WILL NEVER CHARGE EXTRA FOR A GAMEPACK !!
#4 Macro Programming

What is a macro? A macro is a sequence of button presses, d-pad

movements, and joystick movements. Create any move or combo

you can imagine for your Xbox One, Playstation 4, Xbox 360 or PS3

controller using the CronusMAX Macro editing software.
What game is the Macro Controller compatible with? This controller

is compatible with every game ever made, thanks to our the state of

the art technology in CronusMAX. A Macro can do ANY glitch, move,

or combination available on any controller anywhere.
Don't want to build your own macros? You don't have to. Visit the

our Macro Library to download ready-made macros for your favorite

games. Call of Duty? Got you covered. EA Sports games? Done.

RPG's? Yup. Fighting games? Well, let's just say that this controller

is the bad guy's worst nightmare.
*The PS4 touchpad swipe function does not work at this time - the touchpad works as a button - this may affect certain PS4 games that require touchpad swipe). When using cross-over gaming on the PS4 your controller will automatically reset its connection once every 10 minutes. This lasts for a fraction of a second and is hardly noticeable. Please read the list of limitations before purchasing.
PS4 Slim DualShock 4 Controller
CronusMAX is the first controller adapter in the world to add support for the new DualShock 4 Controller Model CUH-ZCT2U that was released with the new PS4 Slim consoles. You can use this awesome new controller to play on many compatible console or system such as the Xbox One S, Xbox One, PlayStation 4, Xbox 360, PlayStation TV, Windows PC, and Android Devices (With OTG Cable)


Fanatec Racing Wheel Support
For the first time ever, CronusMAX now offers support for a full range of Fanatec Racing wheels on the PlayStation 4 :
The amazingPS4 Wheel Edition Mode now gives the ability to connect Fanatec Wheels with Full Force Feedback Support, including support for pedals, shifters and other add-ons, all without the need for a computer to be connected to the console or any software plug-ins. This is what the Fanatec Racing Wheel community has been waiting for! So you have a CSW V2 and want to play F1 2016 or Assetto Corsa on the PS4? You got it!
Full Force Feedback, Pedals, Shifters, XMB and In-Game Menu Navigation
Tested With:
– Fanatec CSR
– Fanatec CSR Elite
– Fanatec Porsche 911 Turbo S
– Fanatec Porsche 911 GT2
– Fanatec Porsche 911 GT3 RS
– Fanatec Porsche 911 GT3 RS v2
– Fanatec ClubSport Wheel Base v1.5
– Fanatec ClubSport Wheel Base v2




Xbox One Controller Battery Fix
Xbox Controllers can now be authenticated for crossover controller use on an Xbox One console without needing to remove the batteries. This includes the new Xbox One S Controller!
Customer comments
| Author/Date | Rating | Comment |
| --- | --- | --- |