(Pre-Owned) Pokémon X - Nintendo 3DS Game (Euro Version)
---
View larger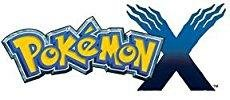 Pokémon X
When Pokémon fans begin their thrilling 3D adventure in Pokémon X or Pokémon Y this October, they will be transported into an entirely new region called Kalos. A mysterious place that is shaped like a star, Kalos is a region where players will encounter beautiful forests, thriving cities, and many never-before-seen Pokémon. The central city of this breathtaking region is Lumiose City, a metropolis featuring a tower that is set to become an iconic structure in Pokémon X and Pokémon Y.
Connect across the World with PSS

Connect and play with other Trainers at any time with the Player Search System (PSS), which allows you to find other people playing Pokémon X and Pokémon Y.

Battle Spot

With Battle Spot, you can use your Internet connection to battle with players from around the world. Compete in casual Free Battles for everyday challenges, or take on tougher Rating Battles to see how you rank against the competition.

Sky Battles

Get ready for aerial battles between Pokémon! In Sky Battles, only Pokémon that can fly are eligible. Seek out opposing Trainers standing high on cliffs or in other distant places. Be prepared: these battles can be tough.

Horde Encounters

Until now, the number of Pokémon on each side of a battle has been even. Now you can test your mettle in Horde Encounters, where one of your Pokémon must take on multiple foes at once! This is a great chance to help your Pokémon grow. But if you don't have any moves that can attack multiple targets at once, you may be in for a rough time.
Chespin

The Grass-type Pokémon Chespin has a tough shell covering its head and back. Despite having a curious nature that tends to get it in trouble, Chespin keeps an optimistic outlook and doesn't worry about small details.

Fennekin

Searing heat blows from the ears of the Fire-type Pokémon Fennekin. This Pokémon loves to snack on twigs. Fennekin can be temperamental, but it tries to do its best for its Trainer.

Froakie

The Water-type Pokémon Froakie is both light and strong, making it capable of jumping incredibly high. The bubbles on its chest and back protect it from attacks. Froakie may appear absentminded, but in truth it pays close attention to its surroundings at all times.

Classic Partner Pokémon

In Pokémon X and Pokémon Y, it's not Professor Sycamore who gives you your first Pokémon. Instead, when you receive a Pokémon from the professor, you'll be able to choose from Bulbasaur, Charmander, and Squirtle! These Pokémon were the first three Pokémon you could start your adventure with in Pokémon Red Version and Pokémon Blue Version, released in North America in 1998, the very beginning of the Pokémon series! And now you'll be able to include them in your party once again.
Customer comments
| Author/Date | Rating | Comment |
| --- | --- | --- |