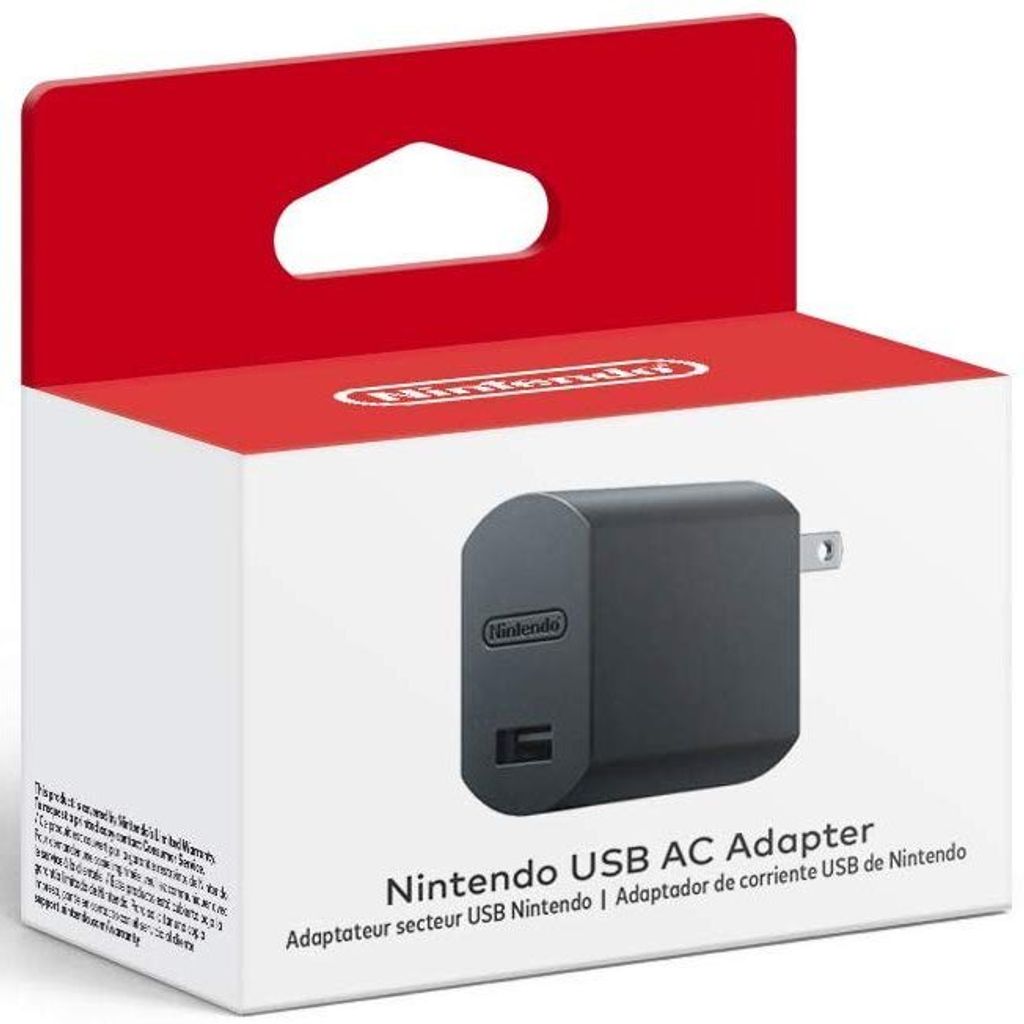 (Original) Nintendo Switch Pro Controller Joy-Con Poke Ball Plus USB AC Adapter
Confusing Listings
The Nintendo USB AC Adapter is meant for the NES Classic and Super NES Classic. They include an AC adapter, so this is a replacement or second charger. Nintendo has been selling this charger for a while as a replacement part. Now they've put it on shelves in a nice retail box.
You can also use the Nintendo USB AC Adapter to charge the Pro Controller, Joy-Cons, and Poke Ball Plus used with the Nintendo Switch. To charge Joy-Cons you'll need the Joy-Con Charging Grip, sold separately. This charger won't charge them any faster than the USB ports on the Switch's dock. And any USB-C charger you use on the Switch will also work on those controllers.

Let's look at the Nintendo USB AC Adapter's specs:
Port: USB-A x1
USB Output: 5V/1.5A
Power Input: 100-240V, 0.2A, 50/60Hz
No cable included
It is a USB-A charger, not USB-C like the Switch uses. With USB-A the Switch draws less. It may not draw enough to keep up with demanding games, so the Switch's battery drains. Albiet at a reduced rate. It is an okay charger for the Switch while asleep. But still not as fast as USB-C or USB-C PD. A USB-A charger isn't a bad option if you already own a good one and don't need to power the dock. But it isn't worth buying new.
As a USB-A charger the Nintendo USB AC Adapter is mid-range. Phone chargers are 5V/1A. The faster chargers are 5V/2.4A. As it happens 5V/1.5A is the max draw of the Switch over USB-A. So it would at least be as good as any other USB-A charger with the Switch.
The lack of a cable cinches it as a poor value buy for the Switch. To use on the Switch you'd need a USB-C to USB-A cable. You want a good quality one to prevent issues. So charger and cable together will cost you up to $17. For $20 you can get this USB-C charger. It'll fast charge the Switch, power the dock, and includes the needed USB-C cable.
The Pro Controller, Joy-Con Charging Grip, and Poke Ball Plus need the same USB-C to USB-A cable with this charger. But they include such a cable, which is safe to use on them or the Switch.
What is it good for?
NES Classic
Super NES Classic
Pro Controller
Joy-Cons, with the Charging Grip
Poke Ball Plus
The Classic consoles include an AC adapter. The Switch controllers charge as well with the dock's USB ports or any other USB-A or USB-C charger.
Customer comments
| Author/Date | Rating | Comment |
| --- | --- | --- |