(Original) Comica CVM-VS09 TC Smartphone Microphone Cardioid Flexible Shotgun Video Microphone Type-C Smart Phones
Comica CVM-VS09 TC Professional Mini Flexible Cardioid Condenser Directional Shotgun Mic for TYPE-C/ USB-C Smartphone is made of full-metal and comes with a super anti-interference feature. Installed with a professional built-in mic, it helps you make clearer and vivid video recording.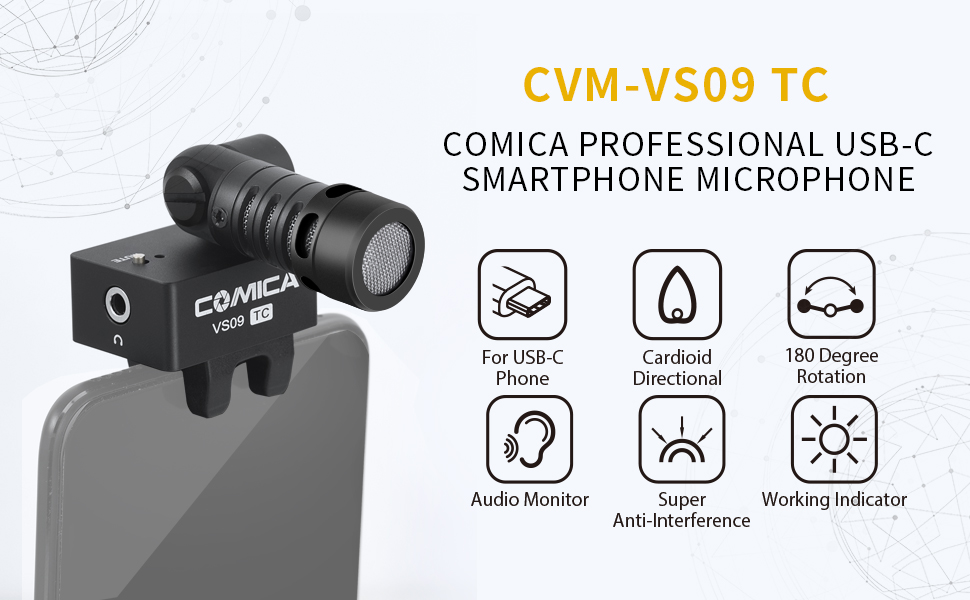 Please Note:
1. To avoid any interference, please make sure WIFI on your phone is set to off, and the best condition is in flight mode.
2. For the Android system smartphone, the mic works well in audio Mode. While in video mode, please try to use a video app from a third party if you find your smartphone doesn't work.
3. Please don't put the device next to heat or an interference source, like a radiator, a roaster or an air-conditioner.
4. Don't communicate by phone during the audio recording; it will cause extra signal interference. For the IOS system smartphone (iPhone), the mic works well either in audio or video mode.
5. Please keep this product in a dry environment.
6. Do not expose this device to rain or a moist environment.

Professional Shotgun Mic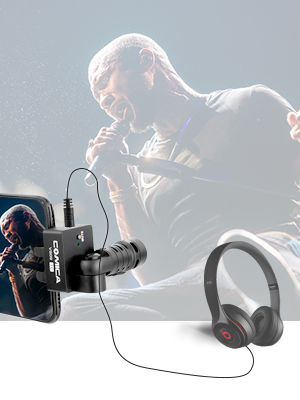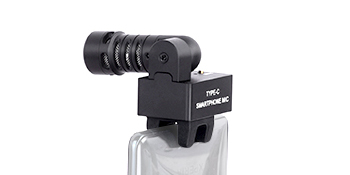 Specification:
Frequency Response: 60Hz~20kHz
Signal/Noise: >70dB
Output Connection: TYPE-C USB2.0
Monitor Connection: 3.5mm
OS Requirements: Android 5.0 and higher
Max SPL: >100dB
Net Weight: 36g
Comica CVM-VS09 TC
Comica is dedicated to providing outstanding audio equipment!
1. Audio Monitor Mode:
The real-time audio monitor supports that you can monitor whether it is works normally; BUT for some smartphone, you can just do playback because of the diversity of Android systems.
2. Muting Mode:
You can turn on the muting mode to avoid the sound that you don't need when you play back the video.
Carioid Pattern

With Carioid Pattern, CVM-VS09 TC can better to pick up the sound in front of the smartphone. It is is the best choice for recording.

Super Anti-interference

Made of full-metal, this microphone is with a good anti-interference effect that can avoid the signal interference.

Windscreen

With the windscreen, CVM-VS09 TC can reduce the noise of wind when you do outside recording and make the sound clearer.

Type-C interface

This mic is suitable for Type-C/

USB-C Smartphone, gives you the best recording experience.

Customer comments
| Author/Date | Rating | Comment |
| --- | --- | --- |